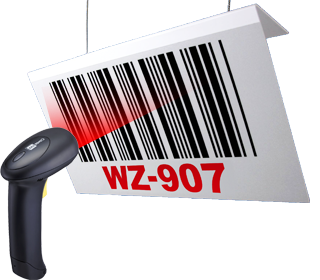 Long-Range Barcode Placards
Hanging Placards for Long-Range Barcode Identification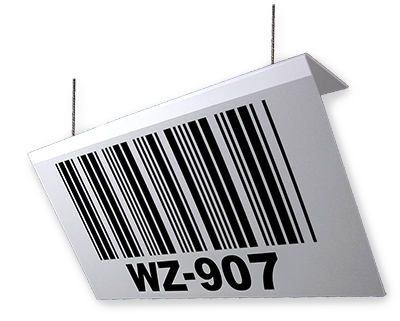 Solve challenges of difficult-to-label stock locations. Scan barcodes from distances up to 50 feet! Ideal for warehouse, distribution center or manufacturing facility. Backed with rigid high impact styrene .060" thick and finished with suspension holes. Available in a variety of sizes.
Highly Visible from Many Angles
Manufactured with specially formulated vinyl material containing multiple layers of micro-prismatic glass beads encapsulated within the material surface. These glass beads create a lens structure that receives, then amplifies the reflected strength of a barcode scanner beam, returning an enhanced signal to the scanner, enabling high performance reading. Light enters each formed bead and reflects between three surfaces before emitting in a path directed back in the direction from which it came. These labels perform exceptionally well from extreme distances and from varied angles.
Long Range Label Design
Ask our staff to provide you a a long-range barcode density test placard to test and determine the optimum barcode density for use in your particular application. The test placard contains a variety of densities of barcodes ranging from 20 mil to 100 mil x dimension. Test this placard with your scanning device to determine optimum design configuration of your label and achieve best performance in your environment.
Placards are produced with mounting holes and can be used either suspended from ceiling or mounted on racks, etc. Suspended placards often incorporate a bend in the backing to provide the optimum angle for reading. Placards can be manufactured either as single sided or double sided as desired.
Download Documents
Questions? Call (800) 382-2323 or (858) 549-9828
---
Product Options
Material
Retro-Reflective Vinyl
Thickness
.066"
Colors
Full Range of Standard Colors
Data
Code 39 Barcode
Attachment
High-Impact Styrene Backing
Finish
Clear Protective Overlaminate
Related Products
© 1984 - 2022 Express, Inc. | Contact Us | Get Samples | Call (800) 382-2323 or +1 (858) 549-9828
Worldwide Identification Industry Leader for over 25 years | Warehouse Barcodes