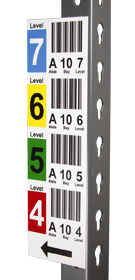 Multi-Level Rack Labels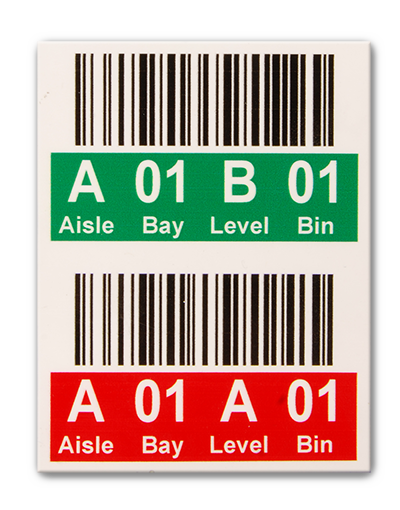 Easily identify rows, bays, and aisles with these effective color coded labels for accurate visual reference and optimum efficiency. Choose the colors that match your company's color scheme and eliminate confusion when pulling or placing stock. Once installed, labels will perform through extended use and abuse. Overlaminate increases label durability and protects from scuffing and abrasion for years of dependable service.
Labels are made of premium vinyl, polyester, or other material depending on your need. Labels are usually backed with premium permanent pressure sensitive adhesive to adhere to a variety of surfaces, including bare metal or painted racking. Also available with magnetic backing, if desired. We can produce virtually any custom size to accommodate single, two-bay, four-bay, six-bay or larger racking systems.
Barcodes

Data scheme can be structured as you require, conforming to your organizational methods.
Variable data can be generated from any sequence you specify or in the case of complex or random data you may provide an electronic data file.
Our rigorous Quality Management System and robust data management services ensure data integrity and complete delivery.
Available in various configurations:
Rigid placards for standoff fastening
Pressure sensitive adhesive backed labels
Magnetic backed labels
Download Documents
Questions? Call (800) 382-2323 or (858) 549-9828
---
Product Options
Material
White Vinyl
Thickness
.003" | .020"
Colors
Full Range of Standard Colors
Data
Multiple Barcode Symbologies
Attachment
Magnetic Backing | Premium Permanent Pressure-Sensitive Adhesive
Artwork
Designed to Your Custom Specifications
Related Products
© 1984 - 2022 Express, Inc. | Contact Us | Get Samples | Call (800) 382-2323 or +1 (858) 549-9828
Worldwide Identification Industry Leader for over 25 years | Warehouse Barcodes